As eCommerce grows in popularity, proponents debate whether outsourcing or in-house delivery is best. Consumers make a lot of online orders across the retail and food industries, and one thing they have come to expect is quick delivery times. Either method can provide the fast and efficient service needed to keep up with your customers' influx of orders, but the benefits of each vary.
In the following guide, we cover the best ways to look at outsourcing logistics vs. in-house delivery. Make an informed decision about which method is ideal for your business after reading about how the advantages and disadvantages compare.
In-House Logistics
In-house delivery is a system where your company owns the last-mile delivery to the customer. Companies that use this method prefer to have their own staff making the deliveries. They transport goods directly to customers from the nearest warehouse or store location using their own fleet of trucks. This makes having control over delivery times simple and easy.
Companies that use in-house delivery might be unable to find a reliable third-party delivery service to partner with. Sometimes, companies prefer to manage their own employees rather than relying on the management of a third-party service. Although many companies operate using this method, there are challenges with in-house logistics.
The pros include:
Total control: A business can monitor and regulate the delivery service, directly engage with customers about their experiences and work with its own employees.
A single chain of command: Customers can communicate with the company's representatives without going through a third party. This makes communication faster and more efficient, with questions able to be answered easily.
Limited miscommunication: The company can avoid communication problems with a third party, relying on customer service representatives to engage with clients.
The cons include:
The cost: The company would be required to either purchase its own fleet or lease one.
Requires more staff: The company would have to hire delivery drivers and employees to track the delivery logistics.
Brand reputation issues: If a driver or another employee fails to provide a timely, satisfactory delivery, the company can be blamed.
Outsourcing Logistics
Third-party or outsourced delivery involves hiring another company to handle the transportation of products to customers. It works when a company pays a third-party courier an agreed-upon rate to act as the primary delivery service and manage the deliveries through third-party logistics (3PL). Although the company is involved to a limited degree, the third-party deals with employees, clients, time estimates and other factors.
This method can prove to be more convenient for companies that prefer to take on fewer management responsibilities. Leaving another company in charge of delivery means fewer workers are tied up regulating logistics or helping customers troubleshoot issues.
The pros include:
Less work: Companies can focus less on managing deliveries and more on advertising their products.
Savings on advertising: Third-party delivery couriers often advertise the partner company's products and services as part of their responsibilities.
Requires less staff: The company's workforce can be smaller while having the same efficiency.
The cons include:
Less control: The third-party company usually handles customer service requests related to delivery issues. This makes the experience easier for clients waiting on products, but the primary company relinquishes its control of delivery operations to the third-party.
Possible miscommunication problems: With two companies having to work together to get products out, miscommunication is a possibility.
Decreased profitability: Outsourced delivery services are typically more costly than using in-house delivery.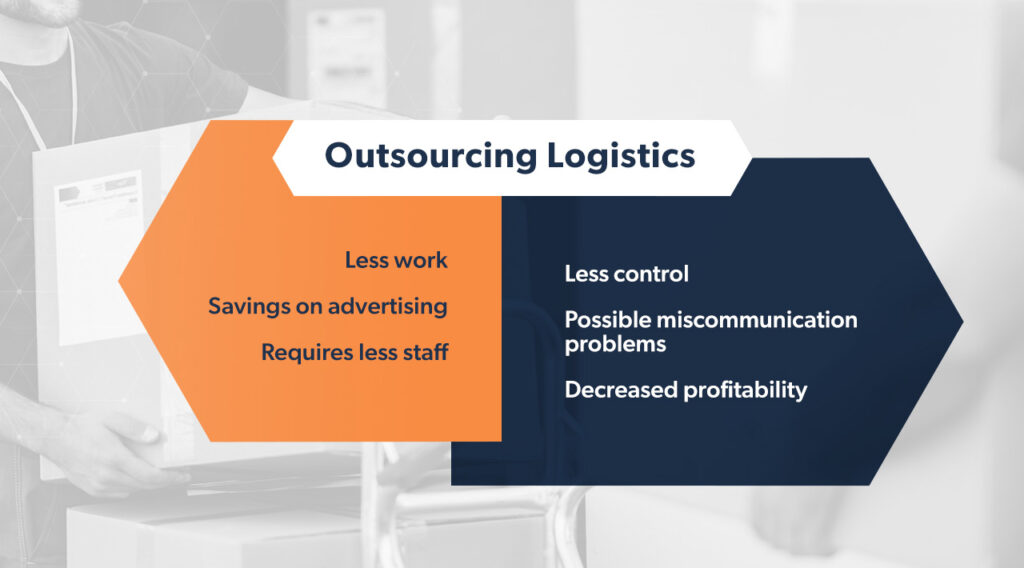 When Should You Consider Outsourcing to 3PL?
If you're concerned with the possible difficulties of in-house delivery service — like how managing a fleet can slow the supply chain process — then it might be best to outsource to a 3PL instead. Advanced technology can help with your company's fleet management, but using a third-party service means more time for your employees to work on other aspects of the company's supply chain.
Growing companies that want to reach customers on a larger scale often start using 3PL so the employees can dedicate more time to other activities. These companies look for a delivery partner that is capable of providing the quality of service that customers have come to expect. The third-party company must also be willing to learn about the brand and the typical delivery process.
Many of the best 3PL services provide technologies that streamline the delivery process or are innovative in other ways. They are able to maximize a company's sustainability from the outside as they improve the delivery process. When using outsourcing for delivery, there are ways to lower the cost of your logistics.
When to outsource logistics as the best possible method depends on many factors about your company, including:
The size: 3PL is preferable if you have few employees available for customer service or limited resources for finding the right employees.
Work availability: If you lack enough time to train employees, or if your small number of employees would have to work too many hours delivering the products, a 3PL can help alleviate the burden.
Warehouse space: The amount of storage space available for sorting your orders is also a factor.
Worker capacity: A company might be unable to take on new employees for many reasons.
The number of customers: A larger customer base generates higher demand, increasing your need to respond quickly to customer expectations.
The Benefits of Outsourcing Logistics
Large and small companies can benefit from using a 3PL service regardless of differences in resources. The main reason that companies prefer doing deliveries this way is that outsourced logistics allows them to focus on growth areas, product improvement, advertising campaigns and multiple other core operations. Smaller companies can benefit because it allows them to avoid hiring more employees than they could reasonably manage, and larger companies can benefit because it limits distractions.
Outsourcing the delivery service allows a company to start providing products using a team of specialists instead of having to learn through the process of trial and error. As a company grows, demand increases, and good logistics practices gradually change with the market. Modern in-house departments have to learn how to handle the latest delivery technology while also marketing the company, providing customer service and keeping employee turnover to a minimum.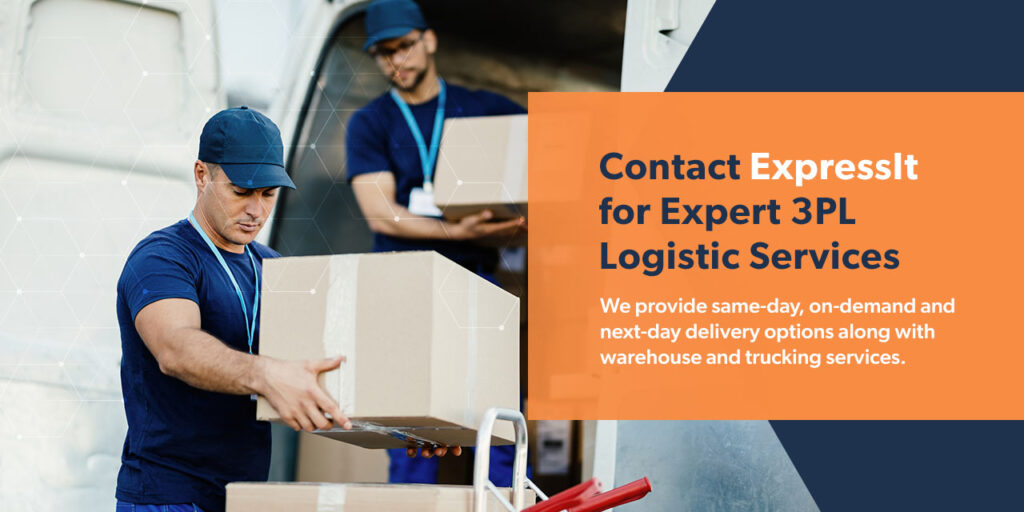 Contact ExpressIt for Expert 3PL Logistic Services
ExpressIt provides same-day, on-demand and next-day delivery options along with warehouse and trucking services. The experienced professionals on our delivery team are available with customizable logistics. When you partner with us, you can choose the service option that works the best for your company.
We offer custom client solutions to meet your needs and grow your business. Contact us at 617-272-7587 to learn more, or get a quote using our online contact form.