As your business expands, you need a logistics partner that can support your growth. A third-party logistics (3PL) partner can help you move products to customers quickly and efficiently while saving you money. Choosing the right partner lets you increase customer satisfaction by having products in stock, fulfilling orders on time and keeping your shipping fees as low as possible.
The key to choosing a logistics partner is asking questions. We've compiled some tips for finding a 3PL partner to help you navigate this process and help you find the provider that will best meet your needs.
What Does a Logistics Partner Do?
A logistics partner is a third-party company that stores and delivers products to your customers, working with companies to manage deliveries and meet time estimates. By taking on these responsibilities, they free business owners and their teams to focus more on advertising and growing their business. Logistics partners often provide the following services:
Warehousing
Packaging
Picking and packing
Order fulfillment
Freight forwarding
A 3PL provider can use specialized and innovative technology to help you optimize your processes and supply chain. They can fill gaps in your supply chain or offer comprehensive solutions to manage your entire order fulfillment and delivery process. Logistics partners help companies save time and money on warehouse facilities, logistics training, staff, paperwork and technology.
3PL providers increase companies' logistics capabilities. When a company starts to grow and expand its customer base, a logistics partner can step in and manage logistic operations that the company can't handle on its own. They can also help identify any supply chain weaknesses, helping businesses improve their processes with innovative solutions.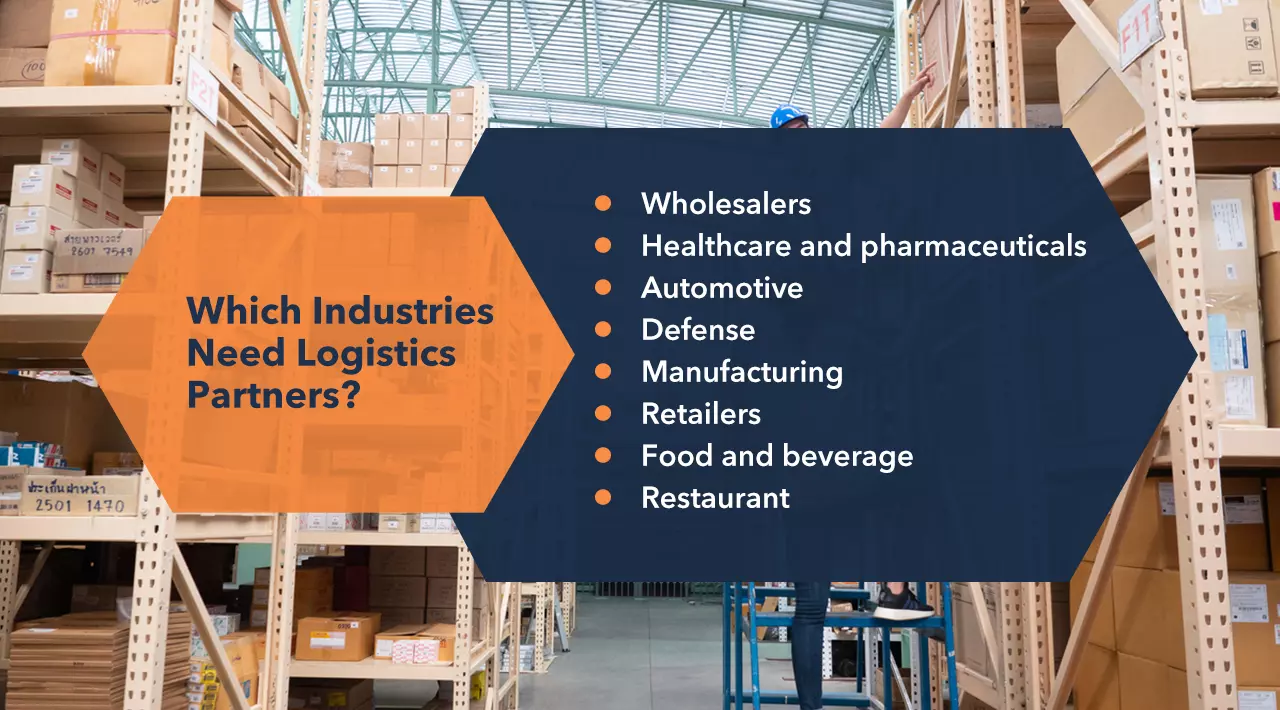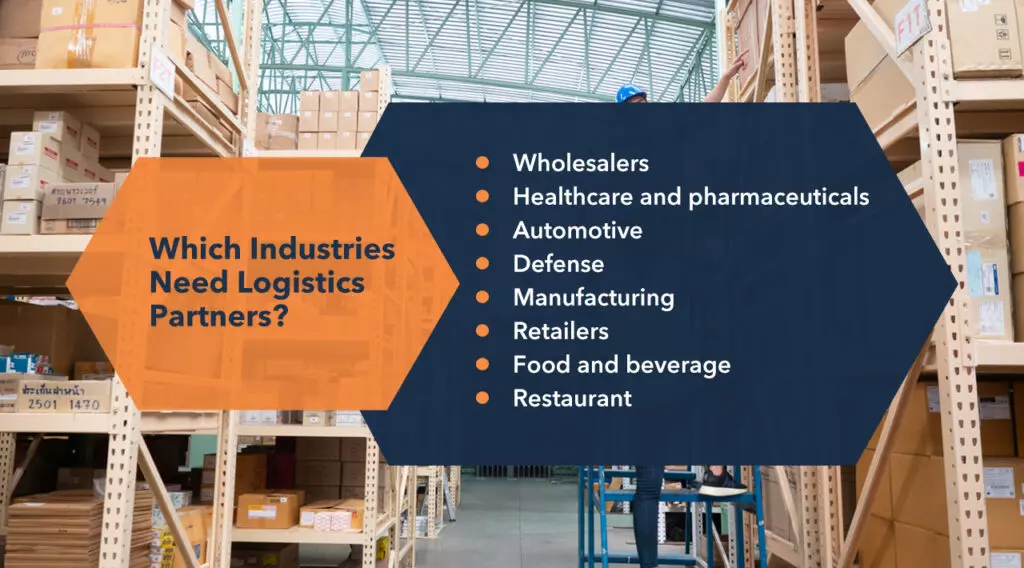 Which Industries Need Logistics Partners?
Logistics partners can be an asset to companies of all sizes. Some common industries that rely on 3PL providers include:
Wholesalers
Healthcare and pharmaceuticals
Automotive
Defense
Manufacturing
Retailers
Food and beverage
Restaurant
Do I Need a Logistics Partner?
If you have a new business or simply enjoy having control over your inventory, you may be handling logistics on your own. However, as your business grows and you gain more customers, you may find that you need a little help. Consider looking for a logistics partner if you can relate to any of the following situations:
1. Your Customer Base Is Growing
Finding it more challenging to keep up with customer orders is a great sign that your business is growing. You successfully marketed your business and built a name for yourself — now it's time to grow your resources to keep up with your growing audience. A logistics partner can help you manage large order volumes to serve your growing customer base and ensure your customers receive their products on time.
2. You Have Limited Space for Your Inventory
Is your home or office full of your products? A logistics partner can store your inventory in a more convenient space. Say goodbye to the days of stacking product boxes in your living room or stocking your office full of merchandise. With a 3PL provider, you can store your inventory in a safe, temperature-controlled warehouse and keep your home and office space free of clutter.
3. Keeping Track of Your Inventory Is Challenging
As your business grows and you begin to receive regular orders, shipping products on time and keeping track of your inventory can become a greater challenge. If you lose track of how many orders you receive, you might have to cancel customer orders due to insufficient stock.
A 3PL provider can help you efficiently track orders, let you know when to replenish inventory and make sure customers receive their items on time.
4. You're Paying High Shipping Fees
Businesses that ship inventory from only one location often have to pay more expensive shipping fees to deliver products to more distant locations. Working with a 3PL provider lets you ship from multiple locations, paying affordable shipping costs while reaching more customers.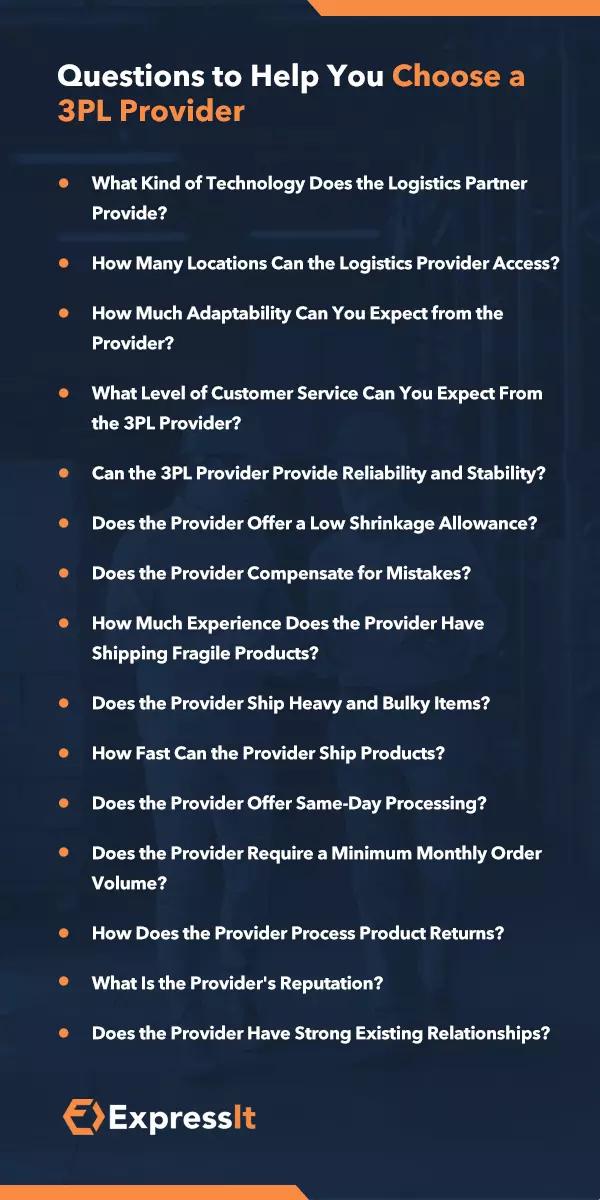 Questions to Help You Choose a 3PL Provider
It's important to know which questions to ask a logistics provider to make sure they can benefit your growth. To serve your customers and build a positive name for your brand, you need a provider that can consistently meet your needs and support your company's growth. Review the following questions to learn how to choose a 3PL provider:
1. What Kind of Technology Does the Logistics Partner Provide?
An effective 3PL provider will offer technology that streamlines and simplifies your processes. Since a logistics partner should handle the tasks that take up most of your time and energy, their technology should automate these processes. When considering a potential logistics partner, ask the following questions:
Do they use cutting-edge technology that will support your business as it grows?
Will their software use your data effectively and efficiently?
Will their technology integrate well with your existing software and your online store?
Does their technology have electronic data interchange (EDI) capabilities?
Do they offer a cloud-based system to manage warehouse inventory?
Will their software help you track and process orders and manage e-commerce returns?
2. How Many Locations Can the Logistics Provider Access?
Before choosing a logistics provider, ask them how many fulfillment centers they have and where they're located. A 3PL with multiple distribution warehouses and fulfillment centers can significantly reduce your order transit times and shipping costs. Choosing a logistics partner that provides nationwide coverage will help you provide for your customers while saving money.
3. How Much Adaptability Can You Expect from the Provider?
Your business is unique to you and what you offer your customers. That means that your needs will differ from the other companies your 3PL provider works with. You may not need all of the services that the provider offers, or you may require additional services or special accommodations.
Before choosing a 3PL provider, ask them if they're able to adapt to your needs. Will you be able to select only the services you need, or will you have to sign up for all the services that the provider offers? Will the provider support your growth and adapt as your business expands and your needs change?
It's also important to consider how much shelf space a 3PL partner can provide. If your business grows or contracts in the future, will the provider allow you to use more or less storage space as needed? Choosing a provider that can adapt to these changes can help you save money if your business contracts and feel secure when your company expands.
4. What Level of Customer Service Can You Expect From the 3PL Provider?
A good logistics partner communicates well, responds in a timely manner and solves problems effectively. Before choosing a 3PL provider, make sure they offer quality customer service. Ask if they have references and talk to any of their current clients who operate businesses similar to yours. If their current clients are happy with their service, you can likely expect to receive the same care and attention.
It's also vital to check into a provider's safety record. Safety regulations change and update frequently, so it's important to work with a company that consistently values and strives for safety. You can check a provider's safety record online to make sure they take safety seriously.
5. Can the 3PL Provider Provide Reliability and Stability?
It's essential to choose a logistics provider you can rely on. How long have they been in operation? What is their track record? Do they consistently provide quality services as their company grows and changes? Research how they have handled economic uncertainty and market turbulence in the past.
A stable company will be able to work with you and provide effective logistics services through times of growth, change and challenges.
6. Does the Provider Offer a Low Shrinkage Allowance?
Products can be broken, stolen or lost on their way to a warehouse or distribution center. Shrinkage refers to the difference between how many items you ship to your 3PL partner and the number of items stocked in the warehouse, available to ship.
Logistics partners often have a shrinkage allowance. This allowance is a threshold for lost or damaged merchandise before the fulfillment center reimburses you. Choose a logistics partner that offers a fair or low shrinkage amount.
7. Does the Provider Compensate for Mistakes?
Even 3PL partners who strive for efficiency and have a track record of excellent results can still make occasional mistakes. If a customer receives the wrong product or a damaged item, you have to pay to replace their order. However, some 3PL providers will compensate you for expenses if they were responsible.
Before deciding on a 3PL partner, ask if they offer any assurances and compensation. Accuracy and performance guarantees are commitments that the provider will properly pack and deliver orders on time. If they fail to do so, you can rest assured that they will compensate you for any losses.
8. How Much Experience Does the Provider Have Shipping Fragile Products?
Fragile items such as glassware, porcelain, technological devices and other breakables require careful handling. Make sure you choose a 3PL provider that has experience shipping fragile objects. An effective logistics partner can use the minimum packaging required, saving you money while safely delivering fragile products to your customers.
9. Does the Provider Ship Heavy and Bulky Items?
A 3PL provider that understands how to handle bulky and heavy items will be able to deliver large products to customers without damage. Make sure you work with a logistics partner with staff members who specialize in large or heavy shipments. They will know how to properly package your heavy merchandise so they can deliver it safely while saving you money.
10. How Fast Can the Provider Ship Products?
Your customers will be happiest when they receive their orders quickly. Choosing a 3PL partner that consistently achieves the fastest possible delivery times is crucial. The e-commerce industry standard for shipping is two days, but same-day delivery will likely become more popular in the future.
Before you choose a logistics partner, make sure they strive for fast delivery and offer distribution centers in multiple regions. This coverage will help ensure your customers receive items quickly and remain satisfied with your brand.
11. Does the Provider Offer Same-Day Processing?
In addition to shipping times, order-processing times significantly affect how quickly customers receive their orders. Same-day order processing is an important logistics trend that ensures same-day turnaround and faster delivery times. Customers who use two-day shipping generally assume it includes same-day processing — it's essential for a 3PL provider to offer both services to lock in customer satisfaction.
12. Does the Provider Require a Minimum Monthly Order Volume?
Some providers require businesses to meet a minimum monthly order volume. You may have to pay additional charges if you don't meet the minimum each month. Ask potential 3PL partners if they have a minimum order volume, how much it is and what they charge if you don't meet it. This information is especially important if you experience fewer sales during certain times of the year.
13. How Does the Provider Process Product Returns?
Product returns happen in every industry, so it's important to evaluate how a provider handles them. Consider how well they process returns and how quickly they can put the products back on the shelves. The faster a provider returns unwanted products to the shelves, the sooner you can sell them to someone else.
14. What Is the Provider's Reputation?
A provider's reputation gives you a glimpse into how stable, reliable and beneficial the company will be. Before choosing a provider, look into their reputation. Check their online reviews and testimonials and consider how long they have been in business. A good reputation is an excellent sign that you'll be able to trust a company to meet your needs.
15. Does the Provider Have Strong Existing Relationships?
3PL providers work with forwarders like port officials and steamship lines. A provider with strong existing relationships can provide consistent services, saving you money and delivering your products efficiently. Make sure your logistics partner has strong partnerships that will help you secure the best carrier rates and keep up with cargo volumes.
It's also important to ask potential 3PL providers if they work with your preferred carriers and process international shipments. Make sure they can handle the paperwork that different countries require and have positive relationships with international carriers. International shipping processes involve many different factors, so choose a logistics partner who knows how to navigate them. Even if your company doesn't ship internationally yet, you may gain international customers as your business grows.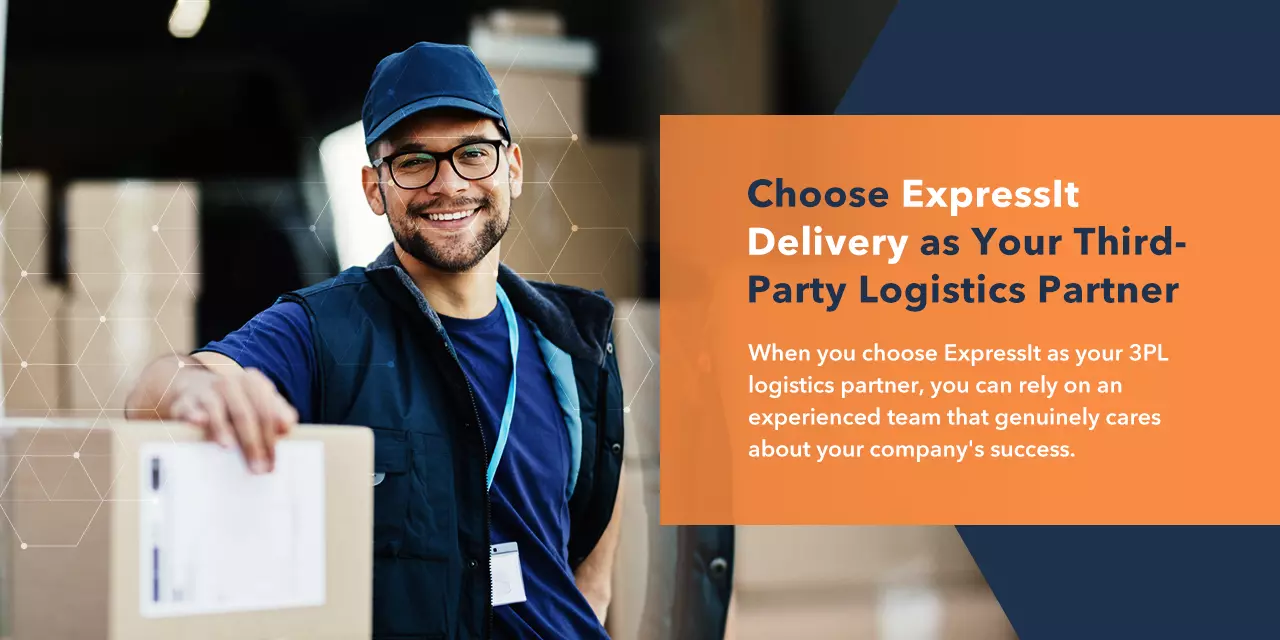 Choose ExpressIt Delivery as Your Third-Party Logistics Partner
Choosing the right logistics partner can provide the optimized processes and innovative solutions your company needs to break through limitations and grow. If you're looking for individualized logistics solutions tailored to meet your needs, ExpressIt is here for you. With locations across the Northeast, we can customize delivery processes to help your company expand, save money and efficiently serve your customers.
From cost-effective white-glove delivery to a transparent client portal, ExpressIt will make sure your customers are taken care of. When you choose ExpressIt as your 3PL logistics partner, you can rely on an experienced team that genuinely cares about your company's success. Contact us to learn more about how we can meet your logistics needs and support your company's growth.