Dispatchers for logistics work to ensure the consistent delivery of goods to your customers within the agreed service terms. This is a complex task that requires a carefully planned delivery schedule and a highly-skilled management team. Unforeseen problems can often occur in the delivery process in even the best-laid plans. Mitigating the fallout from these issues requires expert problem solvers.
Dispatchers are trained to deal with these potential setbacks swiftly to provide a seamless customer experience and avoid costly delays. As your business grows it also takes more effort to control escalating transportation costs. This makes developing efficient transport routes critical to remain competitive and maintain your profit margins.
Another important logistical challenge is finding and retaining the best drivers to support you in providing a reliable service. Maintaining these relationships with drivers demands the careful balancing of their health and safety with your delivery requirements. All of these logistical concerns can be effectively managed with an adept team of experienced dispatchers who have the right tools and understand your business.
What Is the Role of a Dispatcher?
A dispatcher manages the entire process of arranging for the successful delivery of goods to customers or vendors. They coordinate logistics with drivers and customers to make sure that deliveries are made efficiently and on time.
There are several tasks that a good dispatcher can perform to ensure seamless delivery execution:
Tracking Drivers and Delivery Schedules
Dispatchers for logistics use sophisticated GPS and other dispatch-tracking software to monitor the whereabouts of drivers at all times. Their oversight enables them to plan the best routes and keep drivers and customers well-informed of any issues that may arise.
Liaising With Drivers and Customers
A dispatcher facilitates easy communication between drivers and customers. They advise drivers of any pick-up or delivery instructions from the customer, and they provide reliable updates to customers concerning drivers' timelines.
Managing Routes Efficiently
Dispatchers must plan the best routes and determine the most efficient loads for the drivers at their disposal. Developing the most optimal allocation of resources for deliveries is crucial to remaining cost-effective. Dispatchers must also acquire any documents and permits that drivers may need on their routes, such as when shipping chemicals, livestock or other materials that require particular documentation.
Solving Logistical Problems
Unforeseen circumstances may arise in the delivery process that could cause unexpected delays. These situations could lead to scheduling conflicts and inconvenience customers. To avoid potential problems, the dispatch team must be aware of considerations such as:
All the major thoroughfares
Height and weight restrictions
Any roadwork and construction in progress
Weather and road conditions where their drivers and customers operate
This awareness enables dispatchers to mitigate risks by proactively finding solutions and proposing alternative routes.
Maintaining Customer Relationships
Dispatchers are instrumental in developing good relationships with customers and with drivers. Customers come to rely on proactive support that dispatchers provide, and this helps build trust and promote loyalty.
The timely assistance and consistent responsiveness that dispatchers can offer also help maintain positive customer experiences and interactions when communicating delays.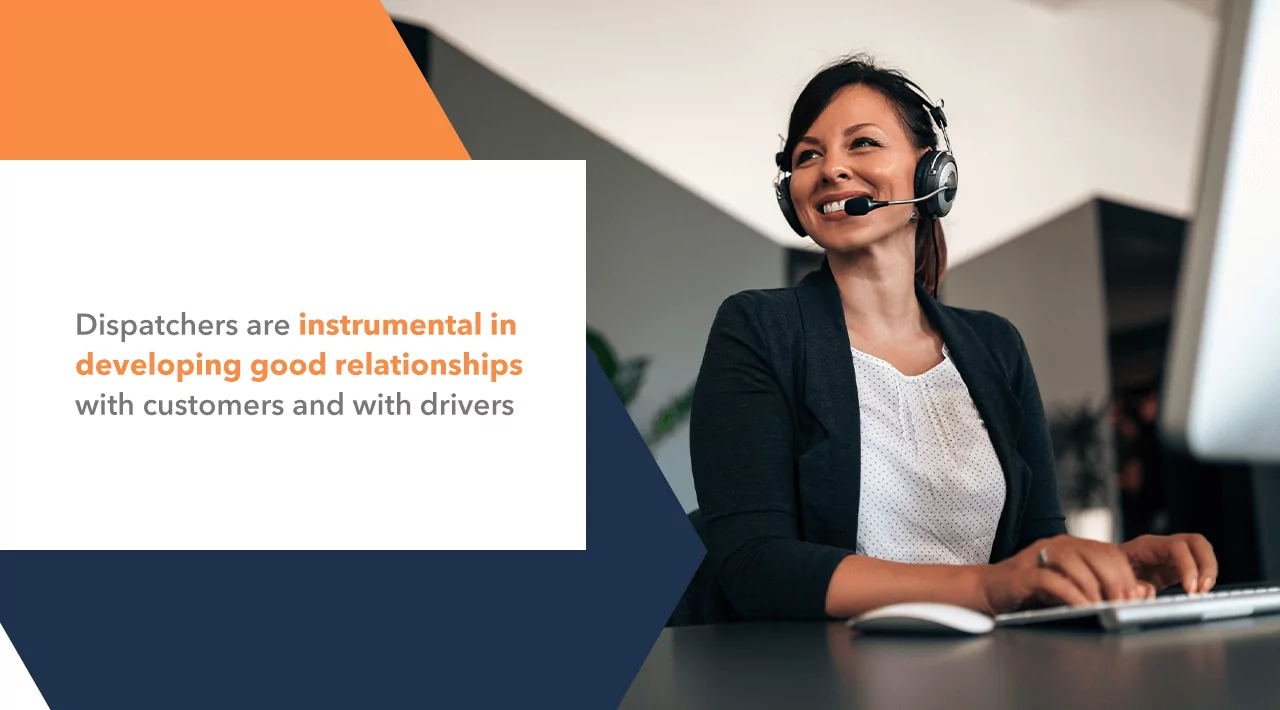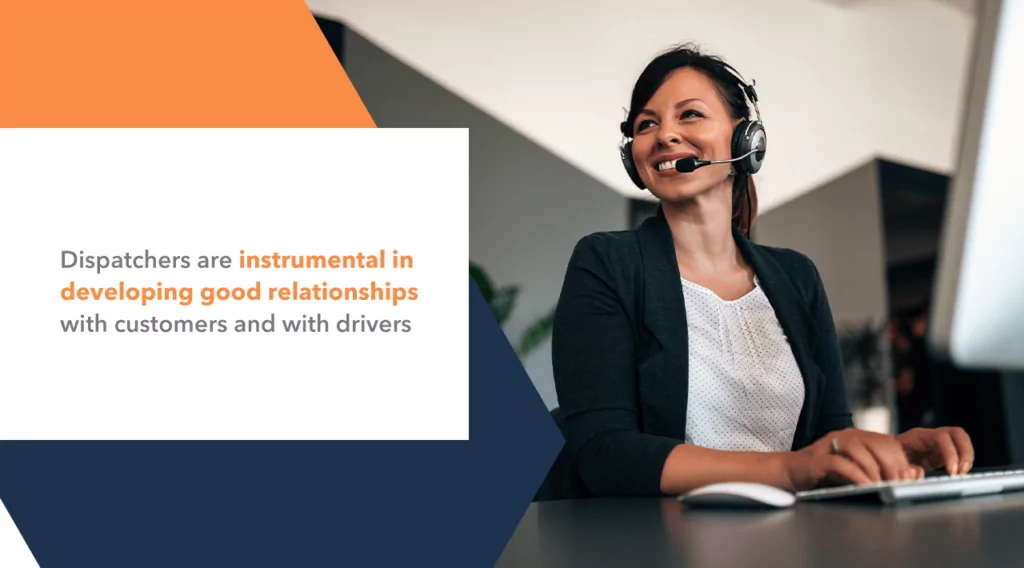 Maintaining Driver Relationships
Dispatchers for delivery foster good working relationships with drivers, as well. This goes a long way towards successfully negotiating long working hours and exacting delivery schedules with drivers. Retaining reliable drivers and keeping them safe and happy is critical for successful transport operations, especially now during significant driver shortages.
6 Benefits of Dispatch Delivery Services
The benefits of delivery dispatchers have far-reaching effects on your bottom line and are instrumental in running any successful logistics operation. The advantages of dispatchers include:
1. Boosting Efficiency
The dispatching team effectively manages the process of allocating the required resources to fulfill deliveries, helping your overall efficiency. They determine the most optimal distribution of hauls between the appropriate drivers and plan efficient routes that minimize costly deadhead miles.
2. Lowering Costs
Efficient operations will optimize how your resources are used, keeping transportation costs low. More than that, third-party dispatchers for logistics can save you even more. You can cut costs on training and save on offering benefits or handling turnover since that falls on the third-party company.
3. Providing Great Customer Service
Dispatchers provide absolute end-to-end transparency of the entire delivery process for businesses and their customers. Their monitoring of all the background activities allows them to respond to any customer inquiries and reliably solve any problems that may upset the customer experience. E-commerce has given customers unprecedented convenience and choice in their purchase decisions, making it that much more crucial to ensure seamless delivery execution.
That quality customer service comes with the benefit of client retention. Maintain your current customer base and gain the opportunity to expand when you offer first-rate service and efficiency.
4. Monitoring Regulatory Compliance
Most business owners and executives do not have the time or resources to keep a close eye on drivers' day-to-day activities. Dispatchers are aware of all the legal regulations regarding the movement of freight, such as limitation on gross load, the transport of hazardous materials or hours of service.
A dedicated dispatch team also has the specialized tools needed to effectively monitor drivers' daily activities for any errors or violations. This helps drivers to stay compliant at all times to protect their safety and avoid hefty fines.
5. Increased Productivity
The administrative support that a dispatch team provides keeps drivers busy and saves your business valuable productive time. Dispatchers streamline the process of negotiating drivers' broker-carrier agreements, signing on their behalf for any commitments and facilitating the invoice and payment process. This allows drivers to focus on their core competencies and provide an optimized service experience for your business and its clients.
6. Allowing Scalability
When your business saves on logistics costs, maintains customers and offers productive, efficient operations, you have the opportunity to grow. Third-party dispatchers for delivery can then grow with your business, adapting to a growing fleet, increased delivery volumes or changes to what you ship.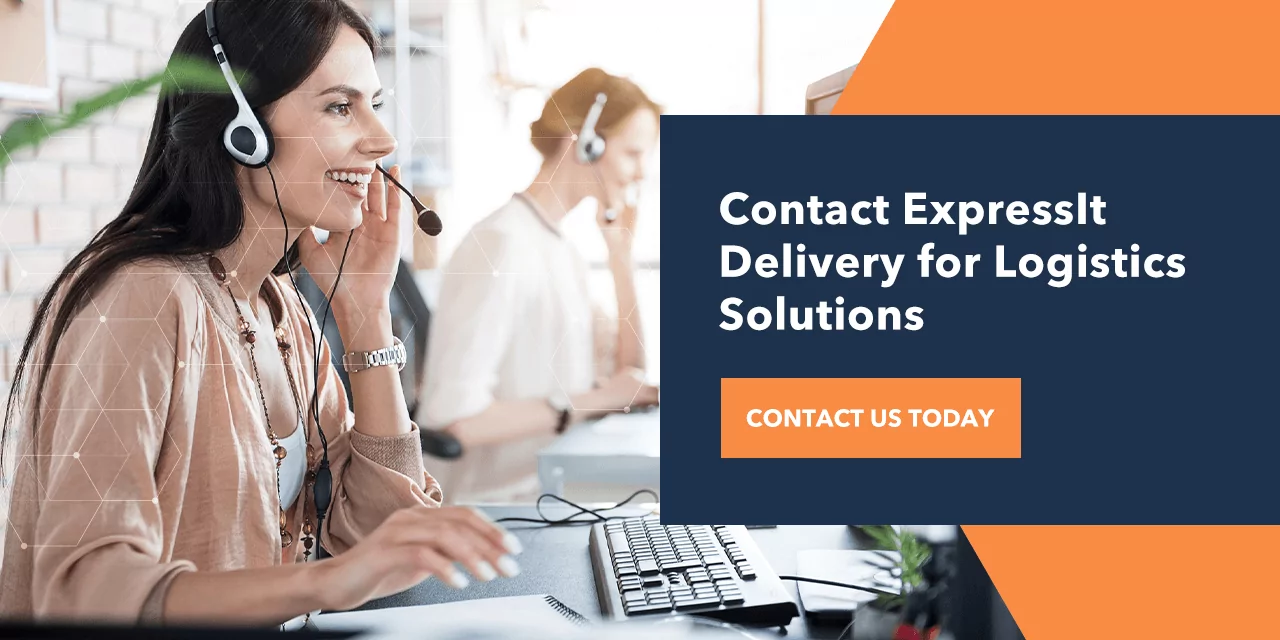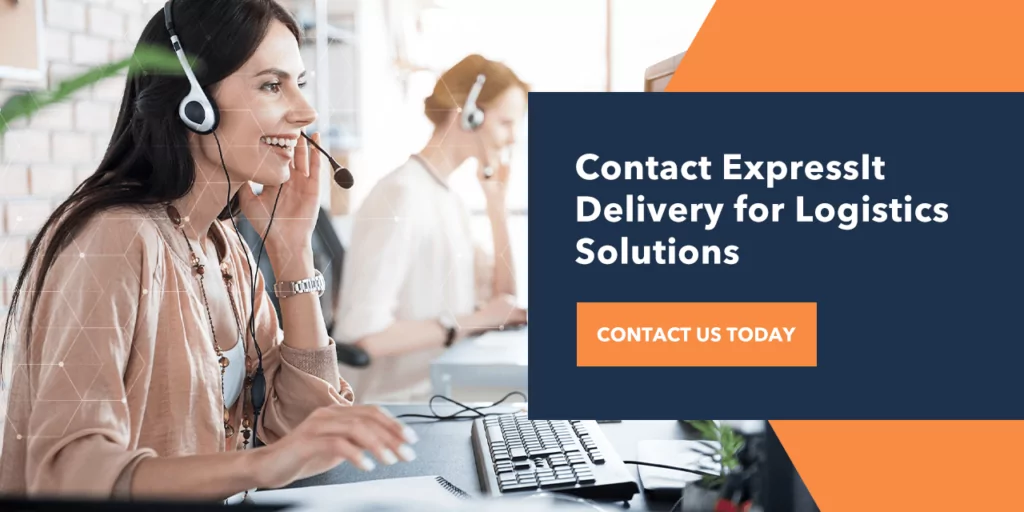 How ExpressIt Can Help You Enjoy These Benefits
Partnering with ExpressIt lends you the competitive advantage of having a dedicated dispatch team while you focus on what you do best. The extensive support our team offers will enhance the level of service you can provide to meet your customers' shipping requirements. All the while, you can avoid the costs associated with hiring an internal dispatch team and investing in their specialized software tools and equipment.
Our customized third-party logistics solutions provide you with a service that acts as a true extension of your brand. For instance, ExpressIt can offer an employee model in broker-carrier agreements that ensure drivers follow your standard operating procedures, business values and protocols for a seamless customer experience.
Contact us today for more information on how we can help or to get a quote.