In many ways, the COVID-19 pandemic changed the way people around the globe spend money and consume products on a regular basis. In the United States and many countries around the globe, the demand for safe at-home delivery and same-day delivery options skyrocketed throughout the past 18 months.
With labor shortages and global traffic restrictions, the global supply chain has been under significant pressure since the pandemic first began. While logistics professionals have been working diligently to implement innovative solutions, the supply chain will continue to face challenges moving into 2022.
Supply Chain Disruptions From the COVID-19 Pandemic
The COVID-19 pandemic disrupted nearly every aspect of life for both individuals and businesses throughout many parts of the globe. Millions of people found themselves out of work or working from home for the first time. Many people left big cities and moved to more rural areas. The global supply chain felt all of these changes and shifts in how people shopped and consumed goods. Some of the most significant disruptions in the supply chain include the following:
Labor shortages: Truck drivers, container ship crews and other delivery professionals were on the front lines of the pandemic working in difficult conditions that posed significant health threats and dangers of infection, especially at the beginning of the pandemic. Some delivery professionals were furloughed for several months. For others, the pandemic prompted them to pursue other career fields. As such, the pandemic-induced labor shortage has significantly impacted global logistics and the worldwide supply chain.
Demand for essential items: Think back to spring 2020, and you will likely remember empty grocery store shelves. In some areas, the pandemic created extreme demand for certain essential products. Many consumers participated in "panic buying," leading to nationwide shortages in essential products such as toilet paper, hand sanitizer and personal protective equipment, like surgical masks and cleaning products. Suppliers and delivery workers were stretched to the limit to restock shelves amid the pandemic.
Global traffic restrictions: Historically, globalization of the supply chain has been a largely positive factor for business owners, logistics professionals, delivery workers and consumers alike. However, as the pandemic crossed borders around the globe, international traffic restrictions and increased border controls led to disruptions in the supply chain. Because many in-demand products such as PPE are manufactured in areas heavily impacted by COVID-19 — like China and India — this further contributed to global traffic restrictions and the consequential supply chain disruptions.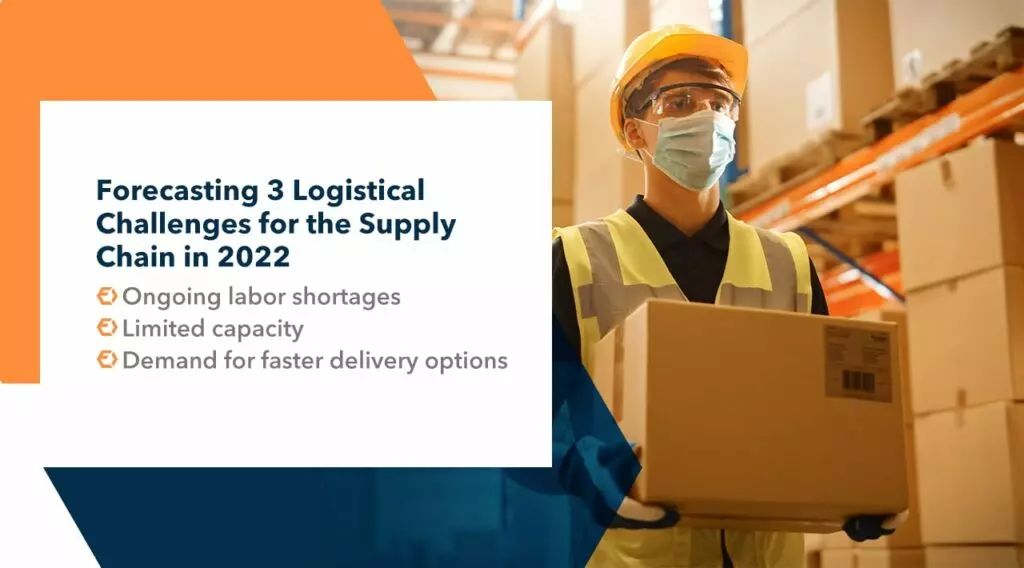 Forecasting 3 Logistical Challenges for the Supply Chain in 2022
With COVID-19 vaccine rollouts continuing around the globe, some aspects of modern life are returning to some measure of pre-2020 normalcy. However, with many people continuing to work from home and moving to more rural areas, supply chains and global logistics will continue to face challenges as we move into 2022.
Ongoing labor shortages: While labor shortages may have peaked earlier in 2021, most experts believe labor and talent shortages will continue into 2022. The supply chain is particularly sensitive to talent shortages. In contrast to other industries such as retail, most logistics and supply chain positions require specialized skills. Some examples of these skilled positions include commercial truck drivers, container ship crews and supply chain management. With many workers taking early retirement during the pandemic or leaving to pursue other industries, the labor shortage is forecasted to continue in 2022.
Limited capacity: You may have seen coverage of the capacity shortages in the news as of late. Most of the busiest industrial ports in the U.S. have multiple container ships waiting offshore in indefinite holds due to capacity shortages. This issue has been brewing for some time due to rapid growth and limited infrastructure, all of which came to a head from the pandemic. In 2022, companies and supply chain managers alike will likely face significant challenges with the battle for capacity.
Demand for faster delivery options: With more people working from home and avoiding in-person shopping than ever before, consumer demand for faster, more convenient delivery options is greater. Two of the most in-demand delivery options include at-home and same-day delivery, especially for essential items like groceries and PPE. As a natural consequence of other supply chain issues — namely, talent shortages and capacity limits — meeting these delivery demands will likely be one of the greatest logistical issues of 2022.
Potential Solutions for Navigating These Challenges
While ongoing supply chain challenges may seem dire at the moment, logistical experts do seem optimistic about opportunities for growth and innovation. To address the most pressing supply chain challenges of 2022, industries should consider the following solutions:
Invest in infrastructure: With limited capacity forecasted to continue being a challenge in 2022, industries worldwide should consider major investments in infrastructure. As demand continues to grow rapidly, building out infrastructure will not happen overnight. However, failure to invest in infrastructure — from new planes, ships and trains to improved highways and ports — will almost certainly hamper global economic growth in significantly negative ways.
Invest in automation: Many logistics professionals and economic experts believe automation is the way of the future. There are many great opportunities to use automation to address some of the issues caused by labor and talent shortages in the future. Especially in highly organized fields like supply chain management, harnessing the power of artificial intelligence (AI) and automation could increase efficiency and outcomes from both companies and consumers around the globe.
Invest in talent: Automation is certainly an important tool through which the negative effects of talent shortages can be mitigated. However, companies should take care not to overlook the value of human capital. Investing in talent is one of the best moves global businesses can make to protect their operations and profits moving into 2022 and beyond.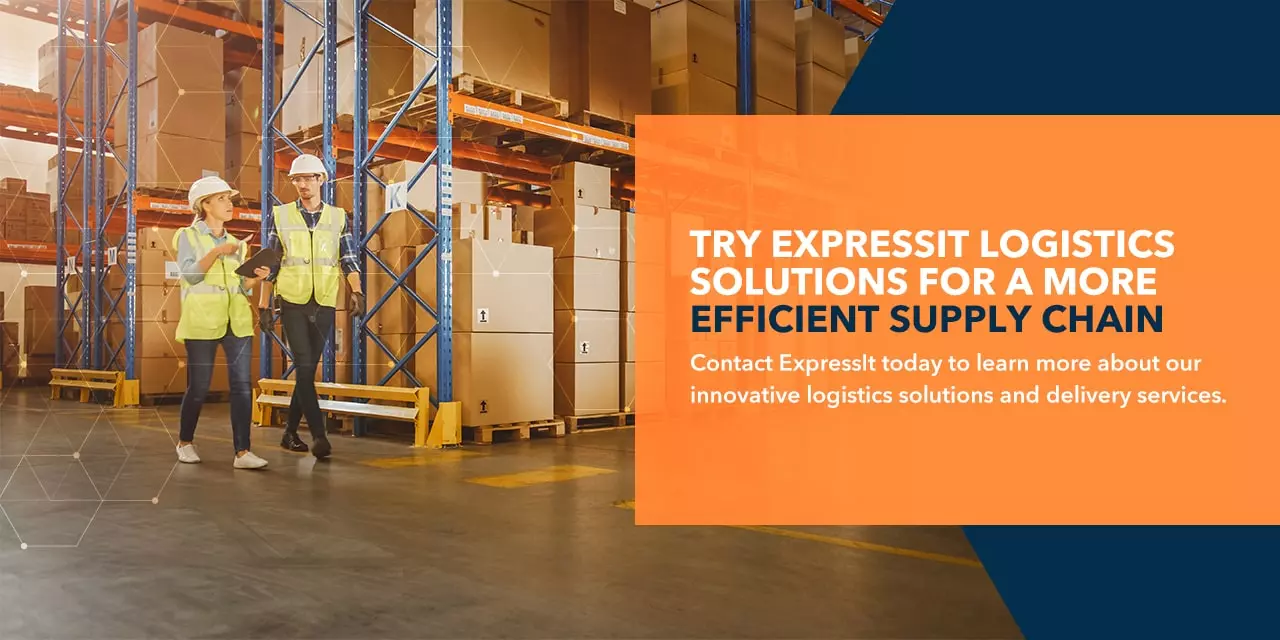 Try ExpressIt Logistics Solutions for a More Efficient Supply Chain
ExpressIt is an industry leader in third-party logistics solutions for businesses of every size and focus. Our specialized focus on the Northeast region makes us uniquely well-suited to serve businesses in this area. Some of our comprehensive services include courier service, same-day delivery, trucking services and last-mile delivery, among others. With transparent pricing and excellent customer service, ExpressIt is a trusted leader in the logistics field.
As a family-owned and woman-led business, ExpressIt's business model is focused on transparency, community connections and effective, targeted solutions. We are proud to provide an unprecedented level of service to diverse community partners throughout the Northeast. Contact ExpressIt today to learn more about our innovative logistics solutions and delivery services.