Every business is different, just like its product catalog. Whether you have fine glass goods or large art pieces, safely transporting them is crucial. Regular delivery methods may not have all the care you need for specific materials — that's where white-glove delivery comes in.
White-glove delivery helps businesses move fragile products while maintaining fast service times. You can use white-glove options in multiple settings and for different materials, and a delivery professional can help you determine if your products qualify. Learn how white-glove delivery works and whether you need to use it below!
How Does White-Glove Delivery Work?
"White-glove" describes anything done with meticulous care or dedication. White-glove delivery goes above and beyond standard delivery to care for fragile or uncommon materials and unpack and set up your delivery. This service often involves special training for staff members to boost their attention to detail and delivery knowledge.
With white-glove delivery, you can expect precautions like:
Careful shipping and handling
Product disassembly, transport, assembly and inspection
Specialized packaging to protect sensitive materials
Dedicated customer service
Unique delivery times
Post-delivery cleanup
Who Uses White-Glove Delivery?
White-glove delivery extends to multiple industries — many companies offer their clients quality shipping options. You can use white-glove delivery regardless of your specialty, though it is more common in some cases.
Some industries that benefit from white-glove delivery include:
Electronics: Many people order electronics straight to their business or home. Protecting smartphones, tablets, computers and other electronics is necessary to prevent damage during transit.
High-end goods: If you're shipping fine furniture, antiques or art, white-glove services can handle these delicate items and send a message to recipients that you care about the condition of their deliveries.
Health care: Pharmaceutical and medical equipment must stay in pristine condition to perform correctly. If your company manufactures or distributes health care equipment, you can opt for white-glove services to make sure everything transports smoothly.
Construction: Delicate construction materials, like marble countertops or glass lighting fixtures, need extra packing care. White-glove service makes sure that they are packed, prepared, delivered and unpacked correctly.
Legal: White-glove delivery can help transport private legal documents for different uses. If you need to ship passports, contracts, tax information or more, white-glove services keep your documents clean and ready for the recipient.
White-glove delivery is a staple service in the delivery and transportation management industry. Many companies offer this service to help clients pack, ship and unpack fragile or unique items more easily.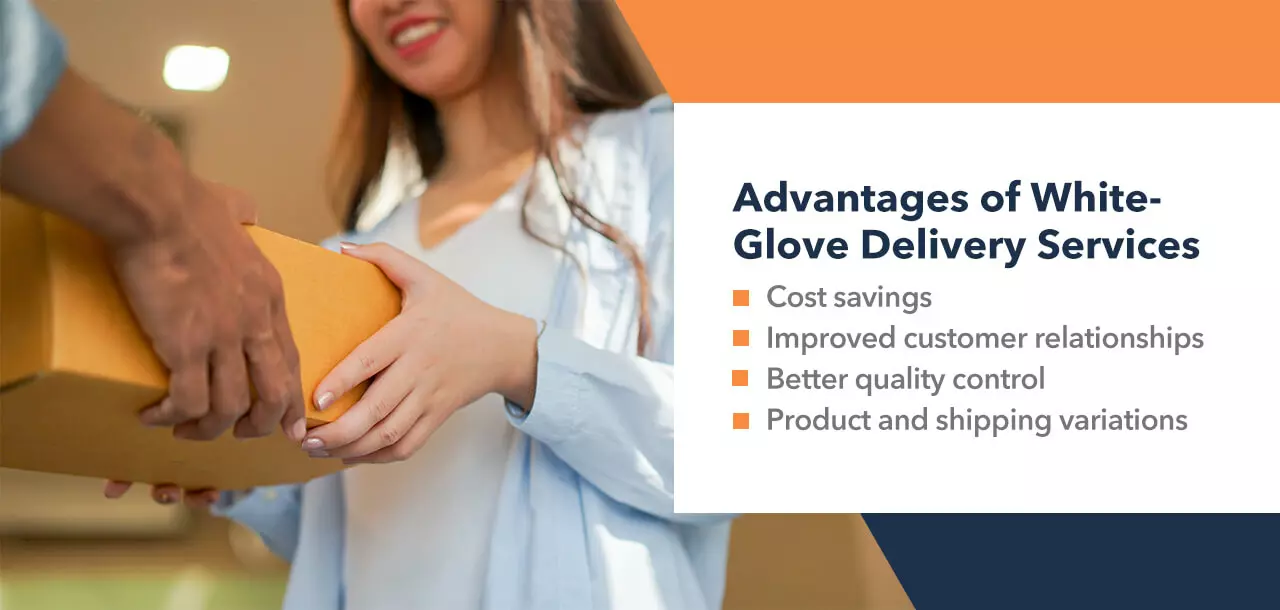 Advantages of White-Glove Delivery Services
Making sure your products arrive safe and sound is crucial for your business. White-glove helps customers get their products while boosting your reputation as a dedicated seller. Any business can use white-glove delivery to set itself apart from other industry names.
When you take extra care with white-glove services, you can enjoy:
Cost savings: As you ship your orders, you might run into replacements or refunds if they get damaged. Careful shipping and knowledgeable unpacking let you spend less on customer complaints and save your bottom line.
Improved customer relationships: When you get white-glove services, you give customers an enhanced experience. They will be more likely to work with you again if they receive their items safely and securely.
Better quality control: White-glove delivery gives you more access and control over each product as it goes through shipping. You can ensure hands-on product monitoring throughout delivery.
Product and shipping variations: White-glove can be a separate service that customers choose when they place an order. After they pay for the white-glove option, they will feel more confident that they're getting the best delivery available.
Do I Need to Use White-Glove Delivery?
Every company is unique, and white-glove delivery might not be a staple for each product. Here are a few considerations that can help you determine if you need white-glove delivery.
1. Consider Your Materials
Some materials, such as durable wood or textiles, might not need white-glove delivery. However, if you sell works of art, irreplaceable materials or fragile objects, white-glove delivery can ensure they stay intact during shipment and delivery.
Ask yourself the following questions:
Will my items damage easily if they shift during travel?
Do I ship one-of-a-kind pieces?
Are my products temperature sensitive?
Can my products handle fast, mechanical transportation?
Do my products break easily?
If you feel like your products need special care, opt for a delivery method with designated white-glove options.
What Is White-Glove Delivery?>2. Plan for Storage
Some businesses have a large backstock they keep in a storage unit or warehouse. If you have large or fragile objects, you want to keep them safe during storage. You can use white-glove services to help prepare them for a storage facility before or after shipment. Organizing, cleaning, packaging and unloading your products will secure them during storage.
3. Evaluate Risks
There are plenty of reasons that packages get damaged during shipping, including:
Too much space around the item inside the packing materials.
Not enough cushioning material to prevent sliding and contact.
Lack of tamper-proof materials to prevent theft.
Improper handling by inexperienced shipping workers.
The recipient tries to unload or unpack the delivery.
White-glove delivery accounts for all of these risks and prevents them at the source. With secure packaging materials and careful handling, white-glove services help you reduce the chance of damage, helping shipments arrive in pristine condition.
4. Assess Your Resources
Your company's resources will vary, whether you are a large corporation or a new, small business. Determine if you have the time, staff and knowledge to offer white-glove training and delivery. Your budget and workload will impact your potential to handle white-glove delivery yourself.
If you want to implement white-glove delivery into your business but don't have the resources, you can work with a delivery and transportation company. When you outsource your delivery management, you can focus on your internal processes while ensuring quality, secure deliveries for clients.
5. Know Whether You Need Professional Installation
White-glove service is an excellent option if you have products that may require professional installation. You'll gain a well-rounded experience that includes careful shipping and knowledgeable installation. Whether you're receiving the delivery or a customer is, white-glove service saves time and resources.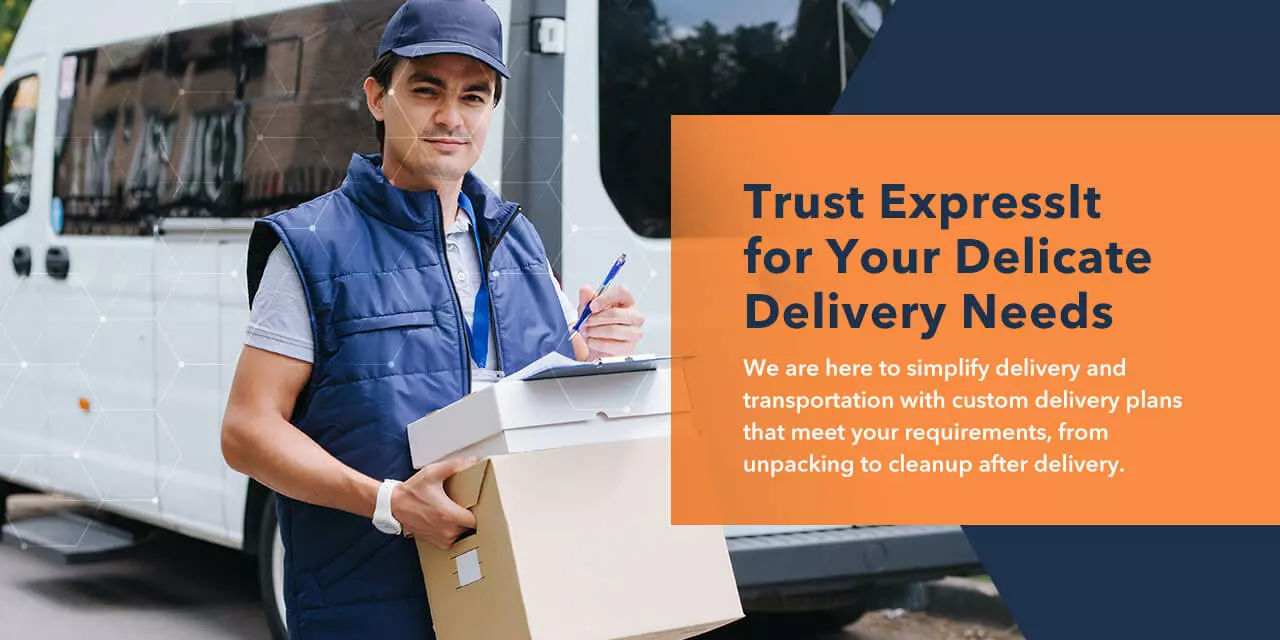 Trust ExpressIt for Your Delicate Delivery Needs
ExpressIt offers various delivery options for small businesses and large corporations. As a family-oriented, female-owned business, we understand how to care for your precious goods during transportation. Our custom delivery and trucking plans include white-glove service, same-day delivery, routed delivery, on-demand and more.
We are here to simplify delivery and transportation with custom delivery plans that meet your requirements, from unpacking to cleanup after delivery. We keep your deliverables secure during travel in the Boston area and beyond. Request a quote online today to start your delivery!