If you're looking for the best delivery options possible, you probably want to know if using a courier is worthwhile instead of opting for standard delivery services. Courier providers are distinct from postal and standard providers. Keep reading to find out how couriers work and what advantages they can offer your business in comparison to a standard service.
What Is Courier Delivery?
A courier delivers another company's packages. For example, FedEx is a courier that works as a third-party delivery service. Because some couriers offer different services than others, it's helpful to understand what basic services you can expect to get before you partner with one.
Most couriers are privately owned, but exceptions are possible. Couriers are used in the e-commerce industry because they specialize in making faster deliveries for packages of a higher weight than average, creating many benefits for sellers. They target localized and regional customers with a service of equal quality and can make multiple deliveries to the same address.
Larger businesses usually rely on couriers because they make mass deliveries more cost-effective. Small businesses and startups tend to use public delivery services instead.
What Is Standard Delivery?
Standard delivery services are typically used when the products can take longer to get to the buyers. Standard deliveries are non-urgent. One example of a standard delivery service is USPS, which is commonly used for e-commerce.
If your shipping needs lack urgency and your customers are patient, standard delivery is a viable option. Still, most customers expect to receive their items within three to five business days at a minimum. Many customers request same-day and overnight deliveries, which standard delivery services are unable to perform.
Courier Service vs. Standard Delivery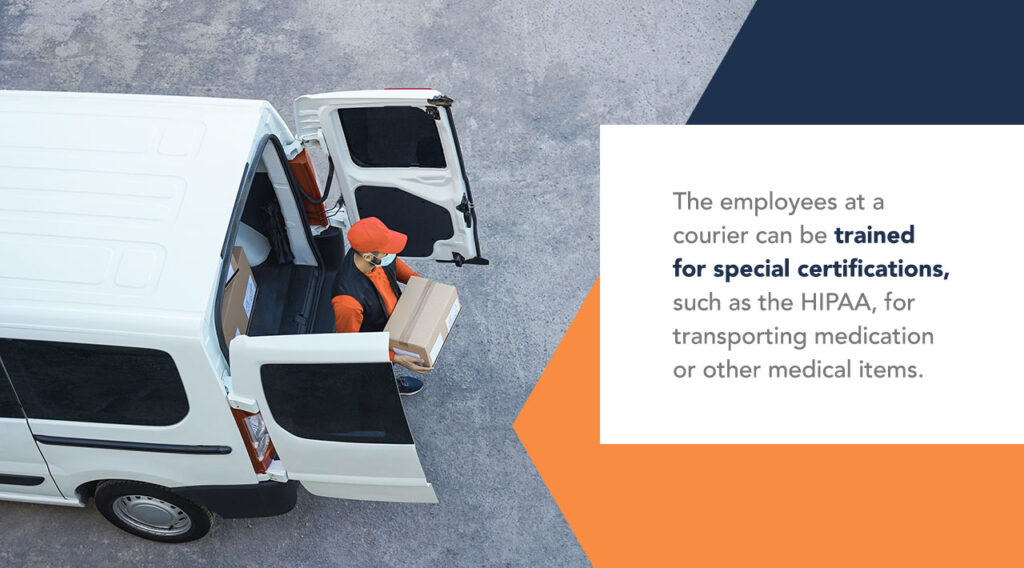 What makes a courier different from postal services or standard delivery? A courier is faster. If you have special needs for your supply chain, a courier can provide superior packaging and handling. Below are the differences between courier deliveries and standard postal shipping in detail:
Hours of operation: Couriers usually employ workers to fill various shifts at all hours of every day, or 24/7/365. Customer service is also open any time a customer has an issue. Standard delivery services work during average business hours and close overnight and on holidays.
Quality: Courier services hire more employees but provide consistent training. With a larger staff, they also have more supervisors overseeing operations. The customer service is expected to be knowledgeable and friendly. With standard delivery, the quality of service the customer gets will vary.
Speed: Couriers make it possible to conduct rush orders on demand. They work through individual orders in real time. The driver conducts standard deliveries as they move along a route.
Security: Couriers have a chain of command, so you'll always be aware of which department to work with to resolve an issue.
Tracking technology: Couriers use the latest technology and work to ensure the carrier is tracking in the ways customers want to see. The technology couriers use is usually better than what standard shipping companies use because the customers expect to get their items more quickly.
Certifications: The employees at a courier can be trained for special certifications, such as the Health Insurance Portability and Accountability Act (HIPAA), for transporting medication or other medical items. This makes a courier ideal when your products have special contents.
Affordability: You can cut costs if you partner with a courier that's able to make deliveries without assigning set costs to them. Standard deliveries will have set costs for the services.
Flexibility: Couriers offer unique solutions for your specific problems, whereas standard shipping is more like a default option. You have few options for customization when you use standard shipping.
Access: Courier companies are widely accessible. Several employ drivers who travel nationwide, and putting in orders is a quick process. Standard shipping services usually have a wide reach, but you might have to put orders in during specific timeframes.
Resources: You'll use more in-house resources when you go through standard services. Your own employees will be required to put in more hours and labor when you ship standard. A courier service can manage certain aspects of shipping so your employees can focus on other tasks.
The Benefits of Courier Services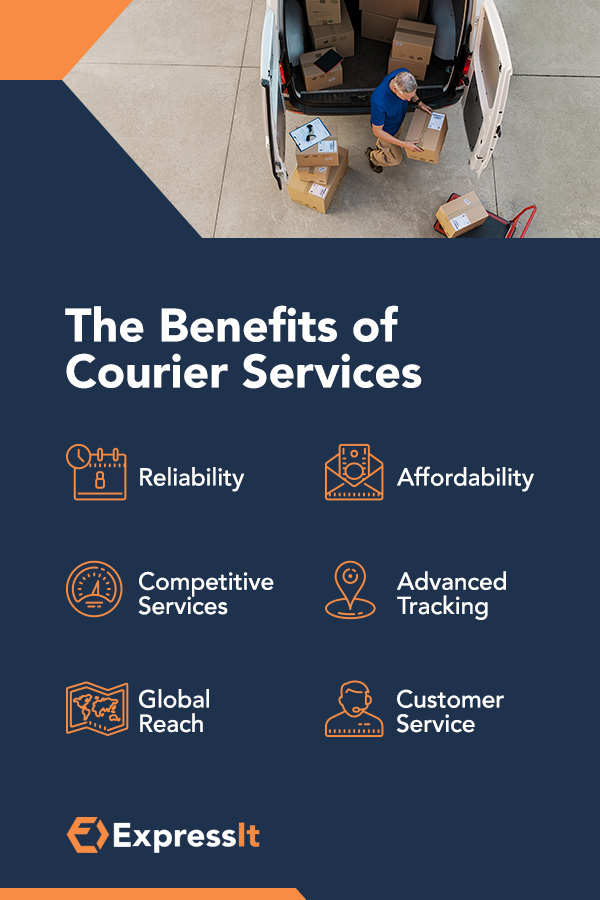 Using a courier comes with several benefits that many companies prefer over the options they get from standard delivery. If you use a courier service, you can expect to have quick delivery estimates and a wide reach for your products. For businesses in the e-commerce space, couriers provide efficient shipping and deliveries, as customers create demand for speedy deliveries to rival in-store selections.
Some of the many advantages of courier services include:
1. Reliability
Most courier services are highly reliable, though you should still check for reviews online before you commit to one. You can depend on a good courier to make your deliveries as stress-free as possible. Courier services focus on customer satisfaction and strive to provide reliable time estimates and packages in good condition.
2. Affordability
Courier services are highly affordable when you have a large number of orders to ship. Services compete against one another to provide you with the best possible offers. Courier services are low in price when you need to make large shipments or have contracted out agreements. This makes it easy to keep services for your deliveries on a long-term basis.
3. Competitive Services
Couriers aim to provide the fastest, most affordable deliveries for sellers and customers. Couriers have rapidly progressed in the quality of their services as customers have raised the bar for speedy delivery times. Many customers are willing to pay more if their items arrive earlier, so couriers compete specifically to be the fastest available.
When fewer customers ordered online, delivery times were more spread out, as they are today when using current standard shipping.
4. Advanced Tracking
Couriers use advanced technology that allows the seller and customers to track their packages. The tracking features couriers provide are usually more sophisticated than standard shipping, which will only show when a package has arrived in most cases. With the courier's system, you can see when packages leave certain facilities, where they're in transit and how much longer it'll take the package to reach its destination.
With these advanced tracking features, your customers know when to expect the package and can even offer input for the drivers, like the safest location to deliver the item or other delivery instructions. This gives customers updates on any delays and limits the time a porch pirate would have to steal their items. Tracking delivery updates enhance the customer buying experience.
5. A Global Reach 
Couriers have simplified international deliveries by specializing in the delivery service industry. Couriers transport parcels overseas in as few days as possible, making global trade quicker and more convenient. Some smaller companies are unable to deliver to other countries because of the high shipping costs, but using an inexpensive courier can expand your reach and draw in customers from more diverse demographics.
6. Customer Service
If there are any issues with an order, you or your customers can contact the courier for support. Many couriers have customer service staff available 24 hours. This feature allows for faster customer service solutions to potentially complex problems. You can also free up your company's own resources when your buyers are able to reach out to a third party.
When Should You Use a Courier Service?
If you're considering shipping through a courier, you probably have packages that need to arrive quickly or have special conditions. A courier provides the highest quality service. Below are some reasons you might want to use a courier:
Time-sensitive sales: If you want to allow your customers to put in rush orders, a courier is the best option. For example, couriers can get time-sensitive food products to customers.
Urgent needs: If you require a customer service line to be available 24/7, a courier can handle last-minute requests from a high number of customers.
Special conditions: A courier can help you find solutions for special packaging needs and product conditions. If you sell temperature-sensitive products, you want to ensure your goods will arrive in good condition.
Advanced tracking: Many delivery services provide tracking, but it can be a limited service with little information attached. A courier can provide real-time tracking pinpointing the exact location of your products.
Custom packaging: A courier might still have size restrictions, but they can provide custom packaging more easily when your company has personalized requests to consider. If your items are difficult to package, using a courier can help.
Overseas shipping: Letting a courier handle international sales is less time-consuming for your company. The courier can handle the taxes and paperwork while you focus on manufacturing your products.
Courier Delivery vs. Postal Service FAQ
Couriers are capable of delivering items with more flexibility than the postal service. Below are commonly asked questions about how courier services differ from postal deliveries:
Does a Courier Imply Express Service?
Speed is one of the factors that make couriers so attractive to sellers and customers alike, but a courier is much more than an express delivery service. Couriers also organize routes, hire drivers and conduct several important administrative tasks related to making deliveries. Couriers work effectively with other parties and provide excellent services for:
Customers: Couriers are known for their helpful customer support lines. They provide tracking and delivery solutions to your buyers as a feature of their operations, and they focus on putting the customer's needs first.
Commercial customers: Couriers simplify bulk shipping options for B2B deliveries, making it preferable to use a courier when carrying out large orders to businesses.
Sellers: Couriers have a personal working relationship with sellers, including reliable customer service and support staff.
Other couriers: One courier might complete a delivery for another, which streamlines the delivery process and benefits all parties involved.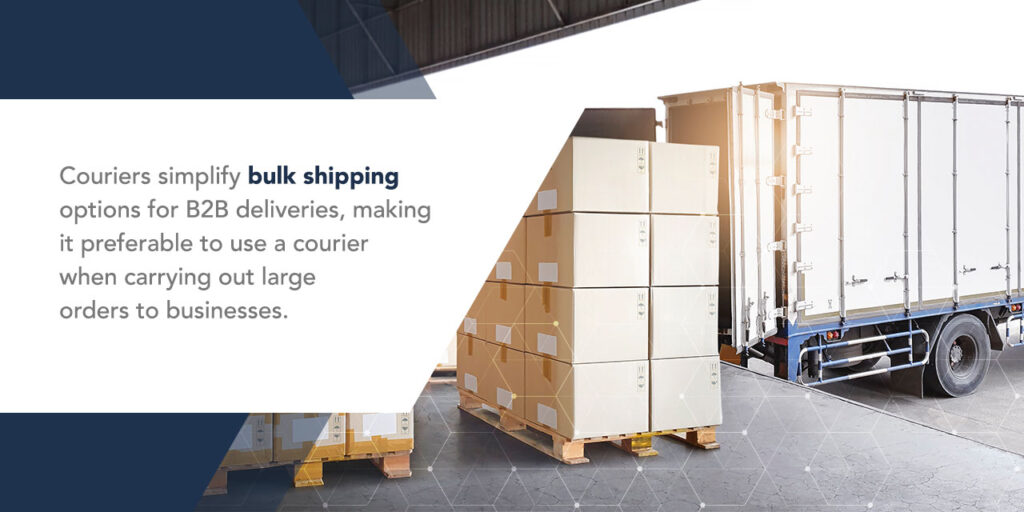 Can a Courier Do Standard Shipping?
Standard shipping you'd expect from a postal service transports locally within two to three business days or longer. If the items are shipped internationally, you can expect shipping to take more time. A courier is capable of shipping your products using standard methods, but depending on the courier, you'll have plenty of other options.
Although you can use standard shipping through a courier, same-day delivery and overnight shipping are increasingly more popular with customers. However, a courier that uses standard shipping might have better tracking options than average. If your customers know where their items are, many are willing to wait to receive them.
What Options Do Couriers Have for Shipping?
The major difference between postal services and a courier is the variety. Postal services are straightforward and predictable, but you have better options when you deliver through a courier. The types of shipping a courier is capable of performing include:
Standard: The purpose of a standard service is to make deliveries using the same methods the postal service does. Standard shipping takes longer, but you can make this option available to your customers for a cheaper rate with a courier to deliver the items.
Routed deliveries: Couriers who deliver on a route use a set schedule for their services so the products have a reliable delivery timeframe. This method is sometimes used for subscription boxes, food products or time-sensitive packages. The orders can be fulfilled on an existing route instead of one by one, which is easier for the courier's drivers. You can schedule the routed deliveries with a quality service.
Next-day: If your customers or products require a fast delivery, look for a courier with an overnight or next-day option. These couriers have extended hours, and their drivers can deliver packages on an as-needed basis.
Same-day: Delivery services that get packages to customers within six hours are also possible, but because of the complication of distance and staff, there may be restrictions on same-day deliveries with some companies. The courier can usually secure the delivery if items are being sold locally within a region. You can also work with a courier that specializes in B2B operations and has a wide reach for same-day deliveries.
Rush orders: Rush or on-demand deliveries are intended to be the fastest service possible for customers who are unable to wait for their products. A courier that makes rush orders might deliver within four hours regardless of the time or day the customer places the order. Other services might wait to deliver until the truck is full, but rush orders are carried out individually.
International deliveries: If you need to ship your items overseas or to neighboring countries, check to see if the courier can deliver internationally. Some couriers focus on local deliveries because of government restrictions and customs handling, but private couriers can handle the delivery on their own while operating in both countries.
Partner With a Quality Courier Service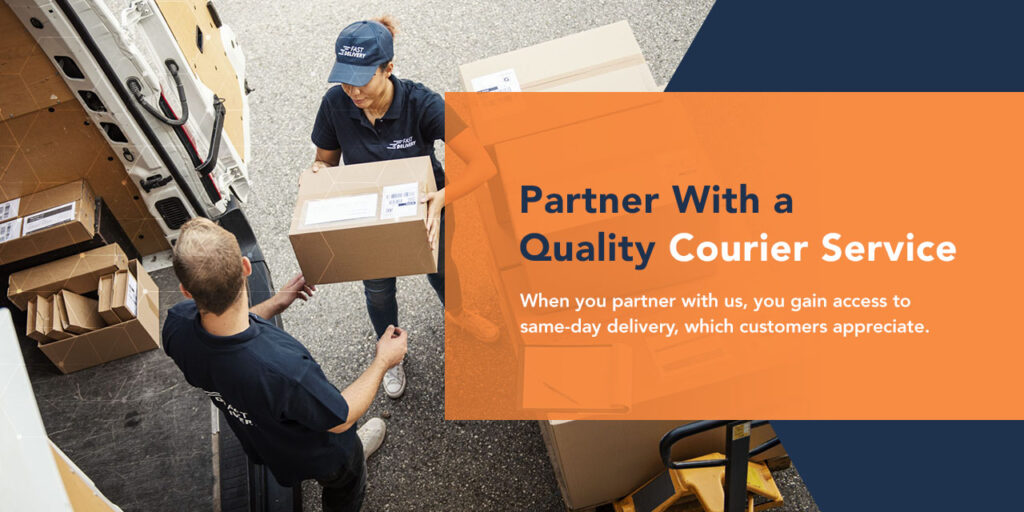 ExpressIt has all of the resources that allow a courier to provide timely estimates and excellent customer service. When you partner with us, you gain access to same-day delivery, which customers appreciate. Contact ExpressIt for all your courier delivery needs today!